From the Desk of Principal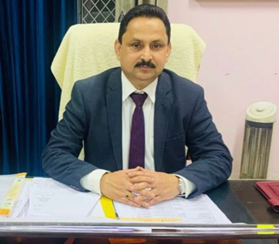 I am delighted to welcome you to GDC R.S Pura, situated in R.S Pura, Jammu and Kashmir The purpose of education is to teach our students to think and develop a capacity to reason out facts and this is achieved by providing them excellent academic environment, state of-the-art infrastructure, state-of-the-art laboratories and dedicated and highly qualified faculty members with decades of teaching experience.
At GDC R.S Pura we emphasize on instilling confidence and independence promoting critical thinking that will help the students to act and react in real life situations. Not only is knowledge imparted but opportunities are provided whereby the students learn and test the applicability of the knowledge acquired.
Our pedagogy is technology integrated to enhance the understanding of inter–linkage between theory and practice. Our pivotal emphasis is on all–round personality development, inclusive of Academics and extra-curricular activities. These activities focus on developing entrepreneurial skill, leadership quality, management skill, team spirit, communication and presentation skills, creativity so that the students are able to compete in a techno savvy World. Students who enter the college as aspirants without direction, experience a sea change in their lives when they graduate.
Read More