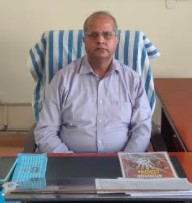 Dr. G.S Rakwal
I, along with my staff welcome you to Govt. Degree College, R.S. Pura. You are entering into a new environment leaving behind the school discipline. The college life offers you a fragrance of freedom but with responsibility. College is a budding society in itself, where you will find students from every stratum of the society. College represents the society in its true colours. It is that part of life which is cherished and enjoyed by everyone to the fullest.
This is the period which transforms an individual into a responsible citizen for the fortified nation. College life helps students to imbibe moral qualities like caring, sharing and helping. College is an institution, where students learn to be empowered and hence make their decisions independently.
Dear students, you will get mentors to supervise different literary and cultural activities to shape up your personality. To bring out your hidden talent, we are having cultural and debating clubs and a college magazine through which you can express your creative and innovative ideas. We provide sports activities to inculcate in you the spirit of discipline, tolerance and co-operation. The college is also having a NSS Unit to bring out your potential for service to the society and Nation.
The college will try to offer you the best possible facilities, but it expects in return that the students must remain in discipline. Disciplined life enhances the overall growth of a student for shaping a holistic personality. The pattern of studies in the college is entirely different from what you have seen in the school. We have a system of Internal Assessment to evaluate your progress in studies from time to time.
At every step dedicated teachers are there to guide you, inspire you and lead you towards the pinnacle of success.